Visitor address | Postal address
Kloster Michaelstein
Michaelstein 3 | Michaelstein 15
38889 Blankenburg (Harz)
T: +49 3944 9030-0
F: +49 3944 9030-30
Museum ticket desk | Ticket sales
T: +49 3944 9030-15
Courses
T: +49 3944 9030-26
Getting here: cars and coaches
From Halle and Braunschweig:
Arriving via the A36 (previously the B6), leave at the "Blankenburg Zentrum" exit and follow the signs.
From Magdeburg and Nordhausen
Arriving via the B81, follow the signs.
Coach and car parking are available outside the abbey grounds. The abbey and grounds are not entirely step-free.
Getting here on public transport
Michaelstein Abbey is convenient to get to by train via Blankenburg or Wernigerode stations, continuing on bus routes 230 and 250. The "Michaelstein, Blankenburg (Harz)" stop, served by the HVB transport company, is just a few hundred metres from Michaelstein Abbey. Buses serve this stop twice an hour on weekdays and once an hour on weekends, until approx. 9.45 p.m.
Getting here by bus & train http://www.insa.de
Holidaymakers in the Harz can even get here free of charge on the HATIX, the free bus ticker for holders of a Kurtaxenheft (spa tax book). Link to HATIX.
2020 museum admission prices
Single ticket 6.00 euros
Concessions 4 euros
Free entry for children aged up to 18
Groups of 10 people or more:
5.50 euros per person
Concessions 3.50 euros
Yearly pass 16.50 euros
Yearly pass, concessions 9 euros
Yearly passes entitle you to enter the museum. When events are being run which include admission to the museum and a surcharge, you need only pay only the indicated surcharge.
Information on concessionary admission prices (PDF-file, German, 150 KB)
Contact us
SubsiDiariuS GmbH
Michaelstein 3
38889 Blankenburg (Harz)
T: +493944 3671-452
F: +49 3944 3671-454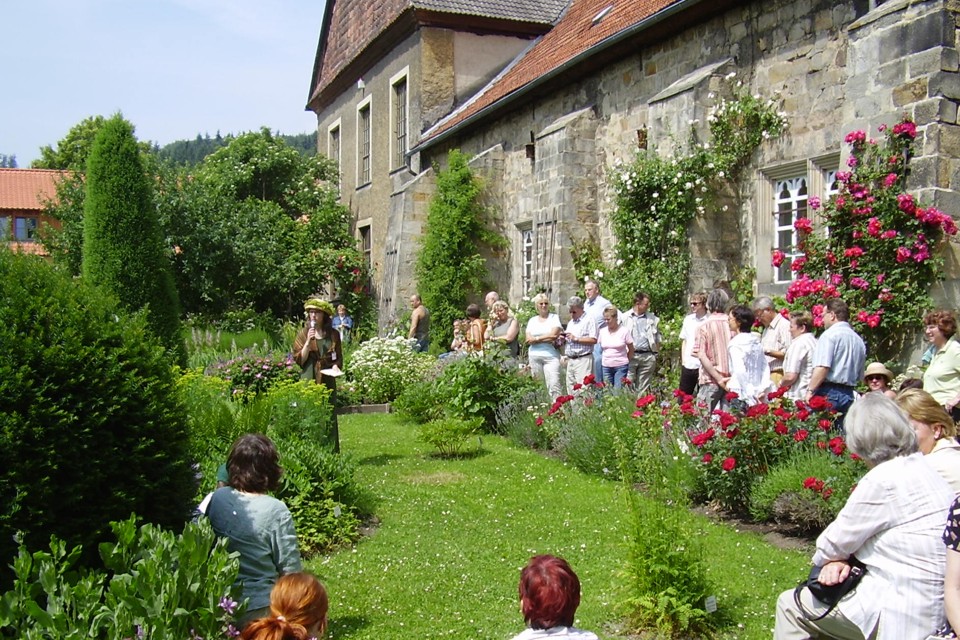 Group trips
The Harz region has plenty of places worth seeing, but Michaelstein, with its idyllic location in a Harz valley, is a real gem. You could spend hours and days exploring its meadows, fields and woods, fishponds and the monastery itself. Whether you travel individually, on a guided tour, for a concert or during an event, the gardens and historical grounds provide a breathtaking backdrop. Michaelstein is a good base for day trips and longer hikes on foot or by bike; accommodation is available – right in the abbey courtyard – at the hotel and inn "Zum Weissen Mönch". We create a full, individual package tailored to your wishes.
Travel companies
Looking for a special place for your travel group? Michaelstein is well worth a visit all year round. Discover Michaelstein's musical world on the combined "Dreiklang" tour. Afterwards, pop into the hotel and inn "Zum Weissen Mönch" for lunch or coffee and cake. Separate areas are reserved in the visitor car park just for coaches. Just a few minutes' walk and you are in the unique monastery landscape.
We will be happy to offer you advice and put together a package.
We look forward to receiving your enquiry.